Yen Strengthens Amid Reducing Short Positions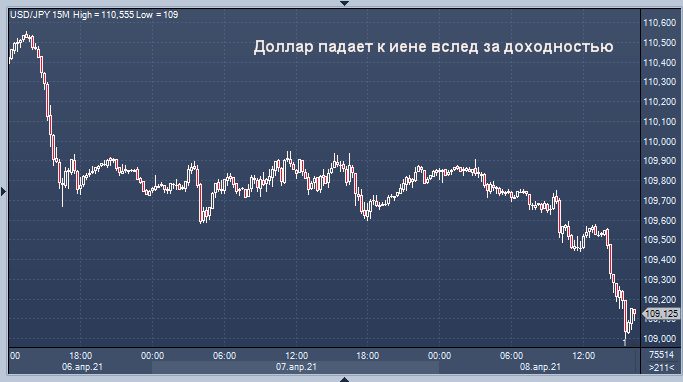 Schedule dollar to yen at intervals of 15 minutes
The yen continues to strengthen as short positions are closed and some carry trades come under pressure. The Bloomberg Dollar Spot Index fell 0.3%. USD / JPY dropped 0.8% to hit 109.00 as short yen positions continue to close; demand from buyers around this level helps to slow the decline. The fall below 108.99, the Fibonacci retracement level of 23.6% of the upward movement since the beginning of the year, and below the Ichimoku baseline at 108.97 could lead to further surrender of the bulls in the pair. INR / JPY falls for the sixth day; the 3.5% drop over this period is the largest since the first week of April 2020. CNH / JPY fell 0.9%, the most since October, and the ZAR / JPY rate fell to a weekly low. The yield on Treasury 10-year bonds has fallen to date to 1.6421% per annum.
Data
The number of Americans applying for unemployment benefits for the first time increased by 16,000 last week to 744,000, the US Labor Department said today. The indicator has risen for the second straight week after falling to its lowest since the start of the pandemic in the week ending March 20. Analysts on average had expected a drop in the number of applications last week to 680 thousand.
The Fed leadership is not afraid of an excessive increase in inflation in the US, considering the risks for the inflation forecast "more or less balanced", according to the minutes of the meeting of the Federal Open Market Committee (FOMC), held March 16-17. The dot plot – a chart that reflects the individual expectations of the Fed's board of governors and the heads of the Federal Reserve Banks (FRB) for interest rates – shows that all 18 Fed leaders are waiting for the federal funds interest rate to remain in the current range (0- 0.25%) in 2021. Four of them believe that the rate may be raised in 2022, and seven are already waiting for a rate hike in 2023.