Why the shortage of chips worth $ 1 turned into a crisis in the global economy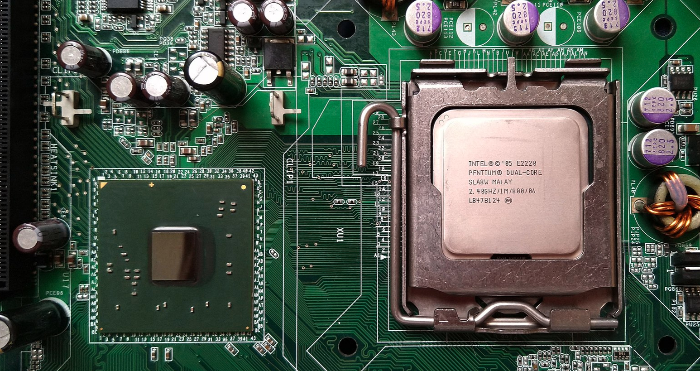 ---
The global silicon industry includes hundreds of different types of chips, with the most advanced from Qualcomm Inc. and Intel Corp. cost from $ 100 to over $ 1000 apiece. They run powerful computers or flashy smartphones. The display driver chip, on the other hand, is completely unnoticeable: its sole purpose is to convey basic instructions for illuminating the screen of a phone, monitor, or navigation system.
The chip industry – and an increasing number of companies outside the tech sector such as automakers – are facing a shortage of display drivers. The firms that produce them are not keeping up with the growing demand, so prices are going up. This leads to supply shortages and increased costs for LCDs – essential components for the production of TVs and laptops, as well as cars, airplanes and modern refrigerators.
---
"This does not mean that you can simply do without them. If you have everything else but don't have a display driver, you won't be able to create a finished product, "said Stacey Rasgon of the semiconductor industry at Sanford C. Bernstein.
---
Now the shortage of such seemingly insignificant parts – for example, power control chips are also in short supply – along the chain spreading through the global economy. Car manufacturers such as Ford Motor Co., Nissan Motor Co. and Volkswagen AG have already cut production, with the industry estimated to lose more than $ 60 billion in profits this year.
Before the improvement begins, the situation is likely to get worse. The abnormal cold weather in Texas has crippled entire American industries. A leading Japanese factory will close for a month due to a fire. Samsung Electronics Co. warned of a "serious imbalance" in the industry, while Taiwan Semiconductor Manufacturing Co. stated that it is not keeping up with demand, although the factories are operating at more than 100% capacity.
---
"I've never seen anything like this in the last 20 years since our company was founded," said Jordan Wu, co-founder and CEO of Himax Technologies Co., a leading supplier of display drivers. "There are not enough chips everywhere."
---
Incorrect calculations
The chip shortage stemmed from understandable calculation errors that arose last year at the start of the pandemic. When Covid-19 began to spread from China to the rest of the world, many companies expected people to cut spending as the economic environment deteriorated.
---
"I have drastically lowered my forecasts. I used the financial crisis as a model, "Rasgon said. "But the demand has been very strong."
---
People forced to stay at home started buying high-tech products, and this trend has continued since then. They bought better computers and large displays to work remotely. They bought new laptops for their children for distance learning. They swept 4K TVs, game consoles, cappuccino makers, air grills and hand blenders off the shelves to make life more enjoyable during quarantine. The pandemic has turned into a protracted Black Friday on the Internet.
The automakers were shocked. They closed factories during the isolation when demand dropped because no one could get into the showrooms. They asked suppliers to stop supplying components, including chips, which are becoming an increasingly important part of cars.
Then at the end of last year, demand began to rise. People wanted to leave the house again, but did not want to use public transport. Automakers have reopened factories and made a bow to chipmakers like TSMC and Samsung. What did they answer? Become at the end of the line. They couldn't make chips fast enough, even for their still loyal customers.
Power at the limit
Himax's Jordan Wu is at the epicenter of the tech sector storm. In March, he agreed to meet at his office in Taipei to discuss shortage issues and why they are so difficult to solve. Two of his employees also personally participated in the interview, and two more joined in on the phone. Throughout the interview, he wore a mask, spoke carefully and clearly.
Wu founded Himax in 2001 with his brother Bin-seng, who serves as the company's chairman of the board. They started making driver chips for laptops and monitors. Then they entered the open market in 2006 and developed along with the computer industry, moving also to smartphones, tablets and touch screens. Their chips are now used in a variety of products, from phones and televisions to cars.
Wu explained that he couldn't produce more display drivers, forcing employees to work harder. Himax develops display drivers and then manufactures them in chip factories such as TSMC or United Microelectronics Corp. Its chips are made with so-called "mature node" technology, hardware that is at least a couple of generations behind advanced processes. These machines apply lines to a chip that are 16 nanometers or more wide, compared to 5 nanometers for high quality chips.
The problem is these chip lines are running to their limit. According to Wu, the pandemic has generated such strong demand that his partners cannot manufacture enough display drivers for all panels that go into computers, TVs and game consoles, as well as for all new products that install screens such as refrigerators, smart thermometers and car audio systems.
The scarcity of driver ICs for automotive systems has arisen due to the fact that they are usually made on 8 "silicon wafers, rather than the more advanced 12" wafers. Sumco Corp., one of the leading wafer manufacturers, reported that 8-inch wafer production in 2020 was around 5,000 pieces per month – less than in 2017.
Nobody builds more advanced product lines because it doesn't make economic sense. Existing lines are fully amortized and fine-tuned for near-perfect yields, which means standard display drivers can be made for less than a dollar, and newer versions are not much more expensive. Buying new equipment and launching at a lower profitability would mean much higher costs.
---
"Building new capacity is too expensive," Wu said.
---
Competitors such as Novatek Microelectronics Corp., also based in Taiwan, face similar restrictions.
The deficit will persist
The shortage is also evident in the sharp rise in prices for LCDs. From January 2020 to March this year, the cost of a 50-inch LCD TV panel has doubled in price. Matthew Canterman of Bloomberg Intelligence predicts that LCD prices will continue to rise until at least the third quarter. According to him, there is an "acute shortage" of chips for display drivers.
The situation is aggravated by the lack of glass. Major glass manufacturers have reported incidents at their manufacturing facilities, including a power outage at Nippon Electric Glass Co. in December and an explosion at AGC Fine Techno Korea in January. According to the co-founder of the analytical company DSCC Yoshio Tamura, production is likely to be limited until at least this summer.
On April 1, a large Japanese manufacturer of computer peripherals IO Data Device Inc. raised the price of LCD monitors by an average of 5,000 yen, the highest increase since they started selling monitors twenty years ago. A spokeswoman for the company said the company cannot profit without price increases due to rising component costs.
All this stimulates business. Himax sales are on the rise, and the company's share price has tripled since November. US stocks rose 1.6% on the New York Stock Exchange on Tuesday morning. Shares of Novatek closed in Taiwan at a record high, adding 5.6%, after gaining more than 60% in a year.
But Wu sees no reason to be happy. His business is built to give customers what they need, so not being able to meet their needs at such a critical time is frustrating for him. He believes that the shortage, especially for automotive components, will not end anytime soon.
---
"We haven't reached a place where we can see the light at the end of the tunnel yet," Wu added.
---