There are almost no bears left on the stock market
Median short interest in stocks from S&P 500 relative to their market capitalization (in%, white, top) and the dynamics of the S&P 500 index (blue, bottom). Source: Bloomberg
The well-coordinated actions of retail investors from WallStreetBets, which were observed at the beginning of the year, seem to have scared off the last bears. Last week, median short interest in S&P 500 stocks hit a 17-year low at 1.6% of their market cap, Bloomberg writes, citing data from Goldman Sachs. A similar situation is observed in the European stock market, according to data from Morgan Stanley.
Needless to say, according to JPMorgan, the bullish positioning of large speculators such as hedge funds is currently in the multi-year record area?
All this testifies to the mania that is taking place against the backdrop of all-time highs in the S&P 500 and other stock indices, as well as a record overvaluation of the stock market, judging by the financial ratios. But "smart" investors are openly afraid to bet against overbought or on the verge of ruin companies, keeping in mind the short squeezes in GameStop, AMC and other securities.
---
"The market is dominated by mass euphoria. Nobody wants to risk their heads short, "said Benn Dunn, president of Alpha Theory Advisors.
---
According to Goldman Sachs, this year the basket of stocks with the highest short interest outperformed the S&P 500 by three times, thanks in no small part to the coordinated actions of Robinhood broker clients.
The most aggressive bears, which usually take a net short position in the stock market, have been net long or neutral in 21 of the last 25 weeks, according to a poll by the American National Association of Active Investment Managers (NAAIM). The last time this was observed was in 2018.
---
"This is a buy-only type of market due to a powerful fundamental history," said Phil Camporeale, asset manager at JPMorgan Asset Management.
---
Last week, Goldman Sachs and Deutsche Bank reported that bullish positioning among large speculators, as well as institutional and retail investors, reached new all-time highs.
However, all of the above does not mean that no one is selling: it is simply done in the options market. According to Bloomberg, in the last month there was an increase in the premium of put options on the S&P 500 relative to the premium of similar call options, as well as an increase in the put-to-call ratio.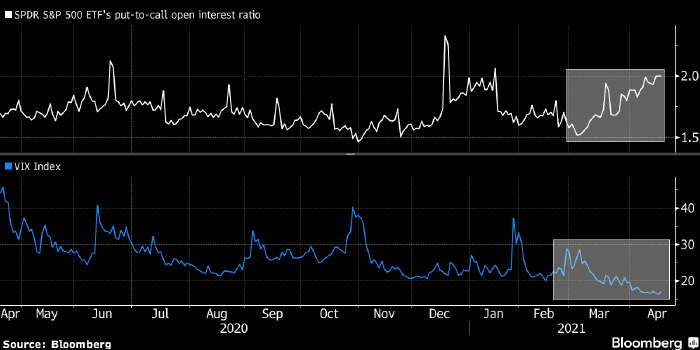 The SPY put-call ratio (S&P 500 ETF, white, top) is rising amid declining VIX volatility index (blue, bottom). Source: Bloomberg