The rise in oil prices deprived US oil and gas companies of the title of the most problematic sector
Problem Debt ($ billion) by Sector in the US: Oil & Gas (Orange), Telecoms (Gray), and Retail (Blue). Source: Bloomberg
At the end of January, US oil and gas companies had the largest volume of bad debts among all sectors of the economy, but the sharp rise in oil prices in February and early March allowed them to noticeably improve their financial position. Now the largest volume of bad debt is in the telecommunications sector.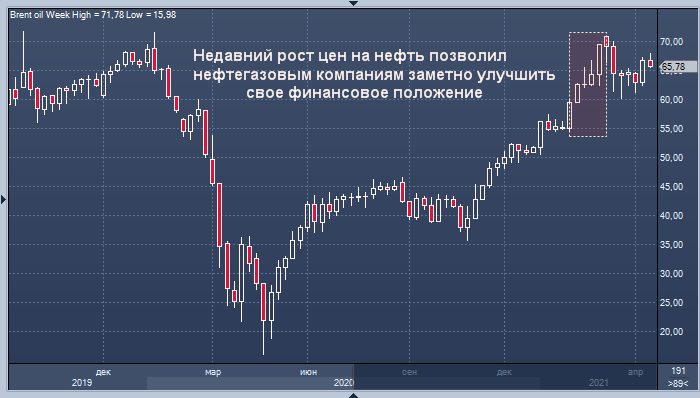 Schedule Brent oil prices at intervals of 1 week
Last week, the volume of bad debts in the US oil and gas sector fell to $ 15.1 billion, and in the telecom sector rose to $ 17.3 billion, Bloomberg writes. The total volume of problem debts of American companies fell from almost $ 1 trillion in March 2020 to the current $ 89 billion.
Oil and natural gas prices are rising as the global economy is recovering, accompanied by an increase in air travel and road congestion.