The dollar has broken through important levels and may continue to weaken
20.04.21 15:59
In addition, the dollar index has completed the formation of the "double top".
The Bloomberg Dollar Index has declined for the seventh straight session. The indicator has broken through key support levels, which indicates the possibility of further weakening. Since the beginning of this month, the dollar index has fallen more than 2% amid declining US yields and a pause in global reflation expectations. If the decline does not stop, the uptrend in the dollar, which was observed this year contrary to consensus, could fade away.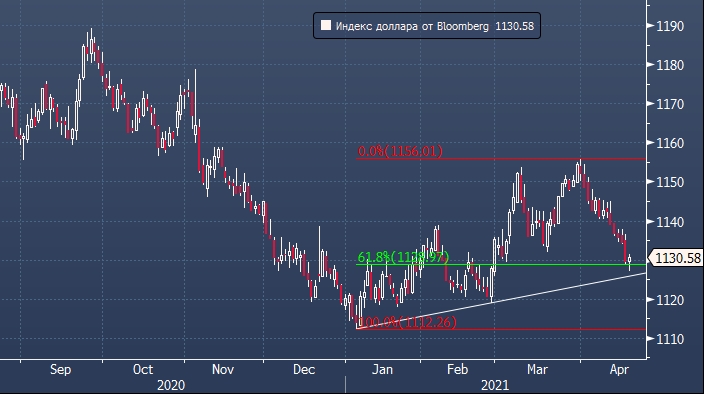 The basket of currencies, on the basis of which the Bloomberg Dollar Index (BBDXY) is built, includes the euro (32.65%), the yen (14.64%), the Canadian dollar (11.94%), the pound (11.49%), the Mexican peso (9.95%), Australian dollar (5.15%), Swiss franc (4.78%), Korean won (3.43%), Chinese yuan (3%), Indonesian rupee (2.96%) … The index is revised annually. Each currency in the index and its weight is determined annually based on their share in international trade, taking into account liquidity. The BBDXY index has been counting since December 31, 2004 from the base level of 1000 points.
This index differs markedly from the "traditional" dollar index (DXY), created in 1973, which shows the relation to a basket of:
Euro – 57.6%
Yen – 13.6%;
Pound Sterling – 11.9%;
Canadian dollar – 9.1%;
Swedish krona – 4.2%;
Swiss franc – 3.6%.
The monthly risk reversal indicator for the Bloomberg Dollar Spot Index dipped to its lowest since early January on Monday, indicating the risk of further weakness. This indicator reflects the demand for investments in the dollar and is moving to a minimum since the beginning of the year. A fall below this level could mean further losses for the US currency.
The Bloomberg Dollar Index has completed the formation of a significant double top pattern, breaking down one of the key technical lines. Such dynamics open the way to the February 2021 low at 1119, and if this level is broken, further decline to the important 1110-1112 range is possible, said Lauren Chun of Citigroup on Monday. It would cover the lows of 2018 and January 2021.