SPACs almost stopped going to IPOs, and this is a wake-up call for the entire market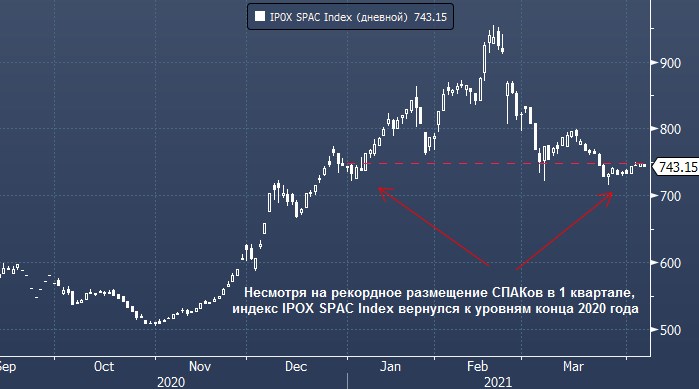 The times when SPACs * went out on IPOs in dozens a week seem to be behind us. And this is an alarming sign for the entire IPO market, writes Bloomberg analyst Drew Singer (in particular, this may mean both a general reduction in liquidity and a decrease in risk appetite – approx. ProFinance.ru).
*SPAC, a company created specifically to merge with another private company that wishes to go public without going through an IPO
---
"This week, 3 SPACs went to the IPO, and the year before last, 2," Goldman Sachs analysts write. "At the same time, 276 SPACs were placed in the first quarter against 228 for the entire 2020 and 170 for the period from 2013 to 2019".
---
After a record number of IPOs in the first quarter, SPAKs' listing activity dropped unexpectedly and sharply, as did the volume of related mergers.
Of course, the SPAK industry can come back to life again, but investor sympathy for them has clearly cooled. For example, over 100 SPACs, more than a third of all such companies that went public last year, are trading below the offering price, and their market capitalization has dropped below the amount of cash they hold.
SPACs that went public in 2021 cost 0.8% more than the offering price on average, while the same indicator for traditional companies that went public is + 6%.
However, it should be noted that SPACs are following the general trend, which is the weakening of the IPO market, despite the fact that S&P 500 is in the region of record values.