Severstal, NLMK and MMK strengthen their positions in the ranking of the most profitable metallurgical companies in the world
EBITDA (left to right): sector average in 2020, sector average in 2021, Severstal, NLMK, MMK. Source: Morgan Stanley, Bloomberg
Russian metallurgical companies have long become the most profitable in the world: this was facilitated by rising steel prices and low production costs due to cheap ruble… Companies such as Severstal, NLMK and MMK have been showing high margins for years, as they focus more on Russian operations than on international ones. This allows them to keep costs at much lower levels than competitors from other countries.
They are now making even more money thanks to a rebound in global steel demand and a weaker ruble.
Last week, Severstal announced that its EBITDA margin (profit before interest, taxes, depreciation and amortization – approx. ProFinance.ru) reached an industry record 52.4% in the first quarter. NLMK and MMK also showed excellent results, which were above the average profitability of the global metals sector at 22% (estimates by Morgan Stanley).
Russian metallurgists have long shown high profitability, but the recent rise in steel prices has made them a real cash generator, said Kirill Chuiko, head of analytical department at BCS Global Markets. According to him, the weak ruble, capacity upgrade and record steel prices since 2008 made Russian metallurgical companies the most profitable in the world.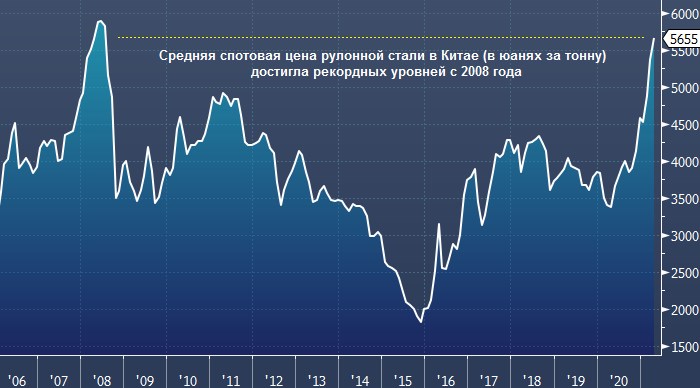 Global demand for steel will grow by 5.8% this year and exceed pre-crisis levels thanks to the stimulation and implementation of deferred consumption, the World Metallurgical Association predicts.
---
"Steel remains the sector in which we see the greatest upside potential," said Dan Shuo, an analyst at Morgan Stanley.
---
In terms of dividends, Russian metallurgical companies look especially attractive, notes Kirill Chuiko. However, the expert sees the risks that their high profitability may induce the Russian government to regulate this market through tax measures, although at this stage it looks unlikely.