Record oil inventories are almost back to normal levels
Average level of oil reserves (in billion barrels) in the OECD countries in 2015-2019 (white) and the same current indicator (blue). Source: IEA, Bloomberg
Unprecedented stocks oilaccumulated during the pandemic are almost used up, writes Bloomberg, citing data from the International Energy Agency. As of February, in developed countries, they decreased by about four-fifths: in July, oil reserves here exceeded the average five-year value by 249 million barrels, and in February – by only 57 million barrels.
This is facilitated by the policy of the participants in the OPEC + deal, which continue to restrict the extraction of black gold, and the recovery of the world economy, which provokes an increase in demand for energy.
---
"Commercial oil reserves in OECD countries have already returned to the five-year average," said Ed Morse, head of commodity analysis at Citi. "Almost all of the remaining surplus reserves are concentrated in China, which creates a permanent oil reserve."
---
Large commercial oil reserves are noted in floating storage facilities off the coast of Shandong province, but they may be intended for new refineries, IHS Markit experts write.
The total stocks of oil and petroleum products in the United States fell to 1.28 billion barrels, which roughly corresponds to the levels observed before the start of the coronavirus pandemic, follows from the data of the country's Ministry of Energy. Stocks on the US east coast fell to a 30-year low.
---
"We are starting to see an increase in the utilization of American refineries, and this is a good sign for further reductions in inventories," said Mercedes McKay, senior analyst at FGE.
---
According to IHS Markit, oil stocks in tankers, which have been used as floating storage facilities in recent months, have decreased by 27% over the past two weeks to 50.7 million barrels.
Oil inventories at the critical Saldanha Bay * storage facility will soon drop to 24.5 million barrels, a record low in the past year, Bloomberg predicts, citing data on tanker movements.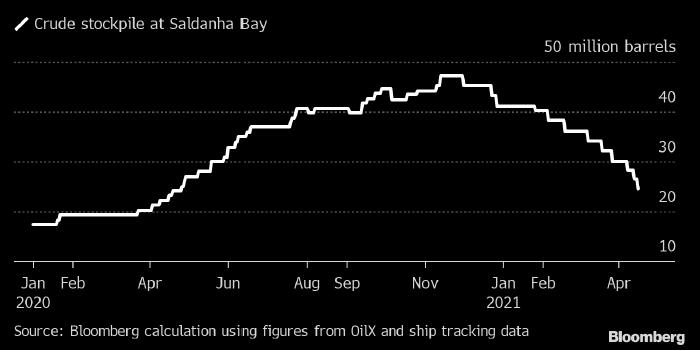 Saldanha Bay oil reserves in million barrels (Bloomberg estimate). Source: Bloomberg
The favorable geographic location of the oil storage facility (South Africa) allows oil traders to quickly send tankers to different parts of the world