Real rates stay deep below zero and support the stock market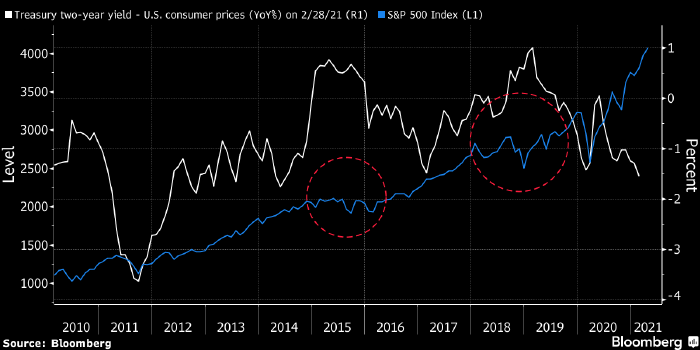 Real return graph of two-year Treasuries (nominal return minus consumer inflation, white, right price scale) and S&P 500 Index (blue, left scale). Source: Bloomberg
The dynamics of the stock market is highly dependent on the dynamics of real rates, and for the S&P 500 the most important is the yield of two-year Treasuries, writes Bloomberg Intelligence analyst Gina Martin Adams.
---
"In the last twelve years since the global financial crisis of 2008, the US stock market has been growing steadily, while the real profitability of two-year Treasuries remained below zero," the expert recalls. "However, as soon as it got positive, the S&P 500 started to slip."
---
Today, the real profitability of two-year Treasuries is not only deeply in negative territory (about -1.5%, see the graph above – ProFinance.ru), but is also steadily declining. Therefore, this indicator has a long way to go up before the S&P 500 starts to experience any problems, the analyst concludes.