Pandemic, stress and cigarettes: tobacco companies raised revenues in 2020
---
So much for the quarantines that are being introduced so that people are more concerned about their health. Last week, the British began sieging pubs that had been closed for several months. Now there is evidence that they have started to smoke more.
More stress, more tobacco
UK market research firm Mintel found in a survey last fall of 2,000 British adults that more than half of smokers were smoking more than before the pandemic. About 10% started smoking again after quitting the habit. Overall, 30% of smokers surveyed reported smoking more often after the outbreak.
In other countries, the picture is similar: according to Euromonitor International, many people in the United States, as well as in Canada, France, Israel and South Korea, also said they began to smoke more. Ultimately, working from home not only means more smoke breaks, it adds factors like stress, isolation and boredom during quarantine, and all good intentions dissipate like tobacco smoke.
Smoking data during the pandemic by country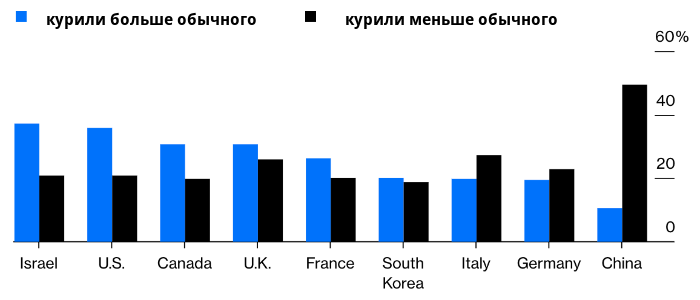 Source: Bloomberg
The trend has not changed
However, the rise in popularity of smoking should not confuse the big tobacco companies. Manufacturers such as British American Tobacco Plc, Philip Morris International Inc. and Altria Group Inc. continue to face significant challenges.
This week, the Biden administration threatened to demand lower levels of nicotine in cigarettes so they are less addictive. In general, cigarette consumption continues to decline, and Jefferies analysts predict that in 10-20 years there will be no more smokers in many markets.
Indeed, global cigarette smoking appears to have dropped by about 3% last year (excluding China and travel retail sales, which plummeted). This is broadly in line with the downtrend of the past five years, although previously the relationship was different: developed markets such as the US and the UK saw sales increase, while sales were falling in some emerging markets.
Therefore, despite the surge in smoking, the future of tobacco companies still depends on their ability to develop less harmful alternatives. Although there is also controversy about how e-cigarettes and devices that heat rather than burn tobacco are actually safer.
Popular alternatives
The most popular alternative is vaping. Mintel also found that 42% of UK e-cigarette users started smoking more often in the past year. While the pandemic has had little impact on the American vaping market, worries about vaping-related illnesses two years ago and the teen vaping epidemic have had their impact: according to ECigIntelligence, a research agency that tracks the market, last year the US had 9 million vapers, up from 12 million in 2019.
US e-cigarette market will return to 2019 level in five years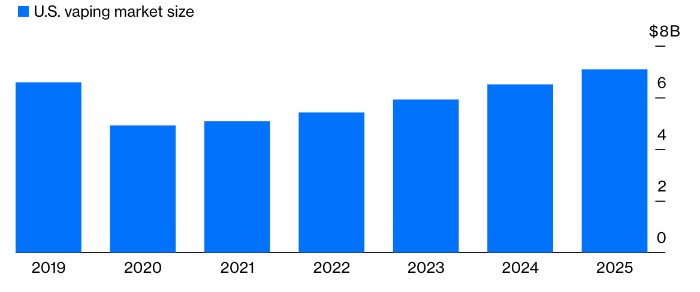 Source: Bloomberg
However, according to Nielsen, sales of e-cigarettes in the US are recovering this year, and despite the problems, they could grow much faster than cigarettes. The vaping crisis also ebbed as it became clear that the lung problems reported two years ago were most likely caused not by legal e-cigarette cartridges, but by black market counterparts containing THC, a psychotropic substance in marijuana diluted vitamin E acetate.At the same time, the percentage of American high school students who smoke vapes declined in 2020.
Another increasingly popular alternative is tobacco heating devices. They are especially popular in Japan, where they account for 28% of the total market, but they are gaining momentum in Europe and the United States. Philip Morris on Tuesday raised its profit forecast based on sales of the IQOS Tobacco Heating System.
If the US government does indeed cut nicotine levels in cigarettes and ban menthol flavors, then, according to Bloomberg Intelligence, the transition to nicotine replacement products such as vapes and nicotine pouches could accelerate. At the same time, vaping technology allows the use of other types of products, from cannabis to drugs. Large tobacco companies should continue to develop such substitutes. And the slowing down of the decline in the traditional business at the moment means an increase in income for investment in other projects.
Philip Morris spent more than $ 8 billion on smokeless products, accounting for 28% of its profit in the first quarter of this year. British American Tobacco has spent over £ 5bn ($ 7bn) developing a portfolio including vaping, non-fired heated products, chewing tobacco and more recently cannabidiol, which it hopes will generate similar sales by 2025, accounting for nearly 20% of the total. It's not clear which category will win, so it's best to have multiple options.
As the vaping crisis in the United States has shown, the shift from cigarettes to vaping, nicotine spiders and the increasingly widespread cannabis will not be uniform across tobacco companies. And this big investment comes with risk. (Take, for example, Altria's $ 12.8 billion stake in Juul Labs Inc., which would later be reduced.) But the industry has no choice but to move on if it wants to avoid stress on its own.