One of the veterans of the debt market considers the "worst" currencies to be interesting to buy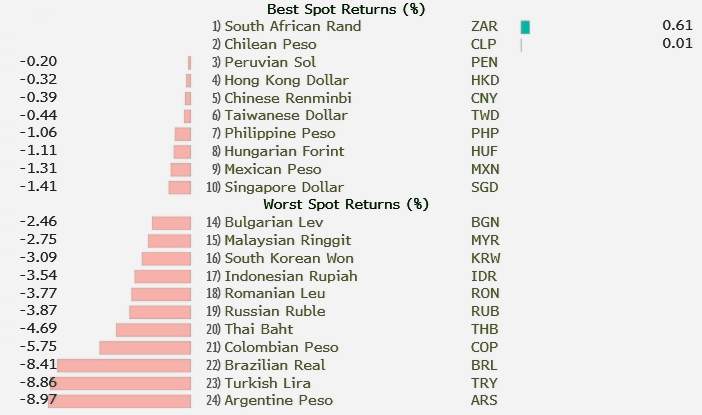 Bloomberg: dynamics of emerging market currencies since early 2021
Head of Tactical Asset Allocation Solutions Department, Invesco Ltd. Alessio de Longis, who oversaw fixed income assets for 18 years, says emerging market currencies are cheap and will pay off for those who can handle volatility. He is betting on some of the worst currencies in the world this year, such as the Brazilian real and the Turkish lira, expecting the global economic recovery in the second and third quarters to fuel a rally in risky assets.
MSCI's Emerging Market Currency Index fell 1.1% in the first three months of the year, sagging the most since the first quarter of 2020 amid rising US yields and a stronger dollar. During the same period, the index of emerging market equities rose 2%.
"When the global growth cycle gets in sync and starts to go uphill, you can see capital flows from the US to other countries," said de Longis of Invesco, who is involved in managing $ 1.35 trillion in assets. "The engine of world production is starting to gain momentum."
According to de Longhi, the 10-year Treasury yield is likely to stabilize around 1.7% and trade sideways for the rest of the year, allowing high-yielding currencies to strengthen. Unlike many market participants, he is not worried about the inflationary cycle in the US, which could force the Federal Reserve to tighten monetary policy. The yield on the 10-year bond stood at 1.664% on Friday evening.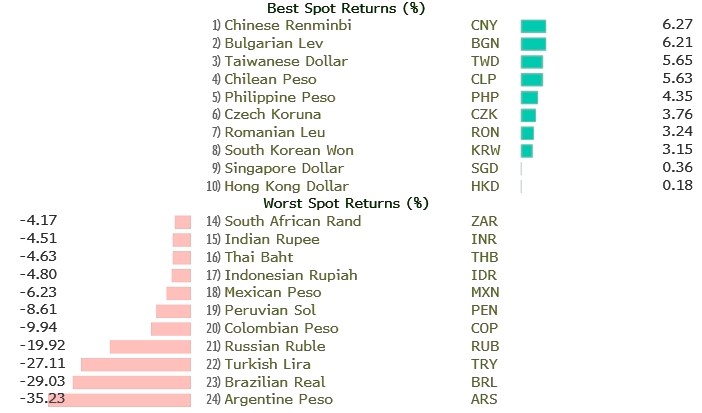 Bloomberg: dynamics of emerging markets currencies at the end of 2020
The expert's views are at variance with those of other Wall Street firms, which have recently been very negative about emerging market currencies. Morgan Stanley analysts were concerned about the slow rollout of the vaccine, while Citigroup expects higher US yields, coupled with a strong dollar, to continue to put pressure on Emerging Markets assets. 17 out of 23 emerging market currencies tracked by Bloomberg have performed negatively against the dollar this year.
Expert Invesco has been holding emerging market currencies in the portfolio for a long time since the second quarter of 2020. In addition to the Brazilian real and Turkish lira, it also has long positions in the South African rand, Russian ruble and Colombian peso. But instead of using the dollar, he finances these deals with short positions in less lucrative emerging market currencies from Korea, Taiwan, Chile and the Czech Republic. According to him, this year the basket has brought positive returns.