Oil markets are still far from normal
---
Everyone is pinning their hopes on vaccines that will allow people to meet friends and family, travel and get back to normal. Oil analysts are also finally getting a little more optimistic about the demand recovery that should accompany this comeback. But if you take a closer look, it becomes clear that this is still a long way off.
In recent monthly reports, the International Energy Agency, the US Energy Information Administration and the Organization of the Petroleum Exporting Countries have raised their forecasts for oil demand in 2021. For the first time since the publication of such forecasts, they were all more optimistic than a month earlier.
Monthly changes in forecasts for oil demand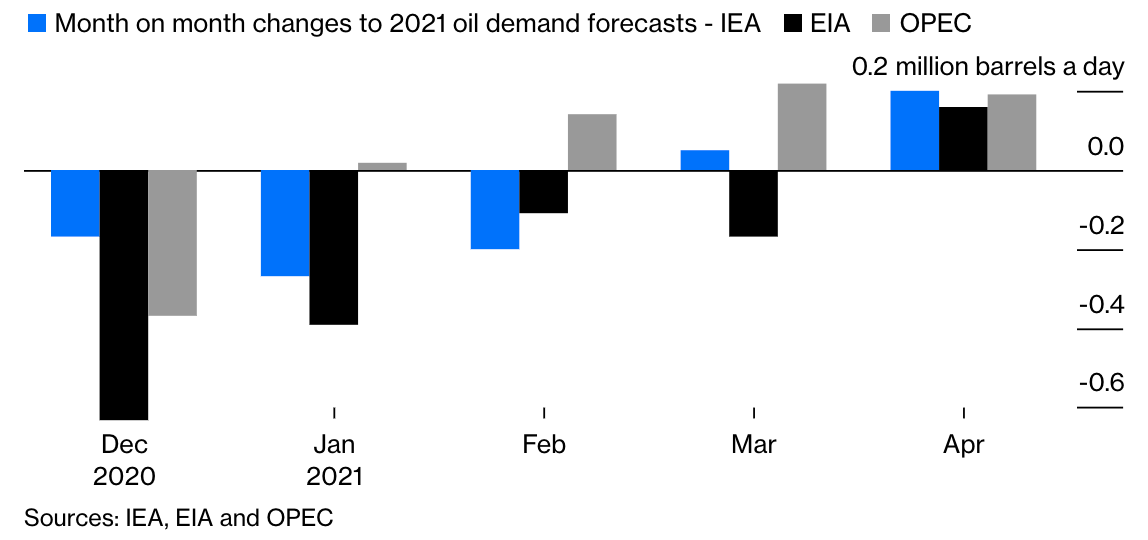 Source: Bloomberg
But if you look a little more closely at the forecasts, one thing is clear. All three agencies are much more optimistic about the second half of the year than the first. This is not surprising, but somewhat alarming.
Predictions are highly dependent on the wider distribution of Covid-19 vaccines than now, as well as their effectiveness against the strains that triggered the second or even third wave of diseases in some countries.
Along with vaccines, the agencies said their current optimism stems from more rosy forecasts from the International Monetary Fund, which raised its forecast for global economic growth for the second time in three months. And while this is also helped by Joe Biden's $ 1.9 trillion stimulus package, the IMF's bullish sentiment is heavily dependent on the widespread availability of effective coronavirus vaccines.
Serious obstacles to mass vaccinations have emerged last week due to growing concerns over the potential link between blood clots and the AstraZeneca and Johnson & Johnson vaccines. The European Union may never resume supplies from any of the companies, which means that 75% of the EU population will not be fully vaccinated until December. The US may also face difficulties due to the interruption in the introduction of J&J vaccines. In Japan, vaccinations began only on Monday.
The uneven spread around the world leaves many unprotected populations, as a result of which the virus can continue to mutate and become more infectious.
What will happen to the demand for oil
Easing restrictions in the United States and the United Kingdom have led to a sharp rebound in automotive fuel demand – especially for gasoline used for personal vehicles in the United States. Gasoline supplies – an indicator of demand – are at their highest levels since the start of the pandemic. They are now only 60,000 barrels per day (0.6%) below the peak reached at the height of last year's summer auto season, and are likely to surpass that level very soon.
UK government figures show that on April 12, road congestion was 91% of pre-pandemic levels, although private cars were still slightly behind commercial vehicles.
However, air travel still remains unclaimed. Although US passenger numbers reached their highest level since the start of the pandemic on Easter weekend, according to the Transportation Security Administration, they are still more than a third below their 2019 level. And this is in a country where domestic flights make up the majority of total flights. International flights are lagging further behind and international travel is still severely restricted in most countries.
Even if governments loosen restrictions in the coming months, opening the borders during the Northern Hemisphere summer holiday may not necessarily translate into a spike in flights to meet the latest forecasts for oil demand.
If flights continue to be too onerous in terms of costly Covid tests, quarantine or self-isolation, people may choose to stay closer to home for the second year in a row. Britain's Heathrow Airport, the country's busiest airport, is already reporting that arriving passengers have to wait up to six hours ahead of the easing of overseas travel rules.
It is possible that the travel situation, and with it the recovery in oil demand, is much more optimistic than a month ago. However, there is still a long way to go to return to normal life.