Maersk hopes to earn twice as much from growing demand
---
The company raised its forecasts after a weeklong lockdown of the Suez Canal earlier in the year, disrupting many global supply chains and spiking freight rates.
Copenhagen-based Maersk said its 2021 operating profit before interest and taxes (Ebit) will range from $ 9 billion to $ 11 billion, up from $ 4.3 billion to $ 6.3 billion previously. At the same time, profit from operating activities before taxes, interest, depreciation and amortization (Ebitda), according to forecasts, will be from $ 13 billion to $ 15 billion, compared with the previous forecast from $ 8.5 billion to $ 10.5 billion.
---
"The continued strong performance is mainly driven by the exceptional market situation and growing demand, resulting in supply chain disruptions and shortages of equipment (containers)," Maersk said.
---
Favorable conditions are expected to continue in the fourth quarter.
Transportation prices resumed growth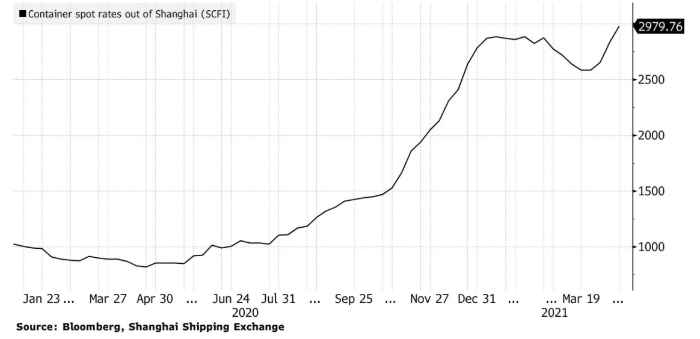 Source: Bloomberg
The company, which transports almost a fifth of the world's containers, said that so far this year, demand in the global market is growing by 5-7%, compared with 3-5% earlier. According to Maersk, the improvement in the forecast "is primarily due to the volume of exports from China to the United States."
Jefferies analyst David Kerstens again recommended buying the stock, saying that while the market expected Maersk to raise its earnings forecast for the year, the new numbers are higher than expected.
He also added that "the forecasts may still be revised upwards as the rates for containerized cargo continue to outpace expectations and renew highs."
Maersk also released preliminary first-quarter results, posting $ 12.4 billion in revenue, slightly less than $ 12.61 billion, according to a Bloomberg survey of analysts.
The blocking of the Suez Canal earlier in the year delayed the normalization of container rates, which more than doubled in 2020 due to increased demand for consumer goods during the pandemic.
Maersk will release full first quarter results on May 5. Maersk shares are up 14% this year, up 42% in 2020.