Largest LNG Buyers Have Already Started Preparing for Next Winter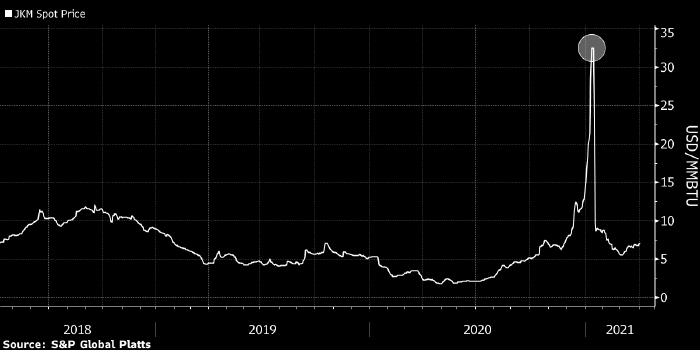 North Asia LNG Spot Price (JKM) in USD per MMBtu. Source: S&P Global Platts, Bloomberg
A sharp cold snap in December-January caught the importers of liquefied natural gas in North Asia by surprise, and prices for natural gas in this region soared several times to record levels in history. It looks like the LNG consumers have drawn conclusions, as they began to stock up on fuel by the next winter earlier than usual.
This week, China's Sinopec paid for at least 35 LNG cargoes for delivery between June and February, Bloomberg writes, citing traders. According to them, other companies from China, Japan and South Korea are preparing to do the same.
A similar volume of LNG purchases by Asian consumers already in April is quite unusual, said the agency's analyst Stephen Stapzhinski. In his opinion, consumers are stocking up on fuel to avoid repeating the winter situation * when buyers could not find sellers. Then the Chinese authorities criticized state-owned LNG importing companies for poor preparation.
*ProFinance.ru: a sharp cold snap in North Asia in December-January, as well as supply disruptions due to logistical problems, screwed up LNG spot prices in the region are up to $ 32.5 per MMBtu, which is five times higher than a year ago.
Some traders have expressed concern that low LNG reserves in Europe may provoke a shortage of blue fuel in Asia throughout the year. They predict that European buyers from the UK to Spain will intercept shipments from the US and other projects in the Atlantic.
Bloomberg reported this week that global demand for LNG showed record growth in March since the start of the pandemic, and its exports from the United States reached record levels in history.