Gasoline prices in Europe hit multi-year records despite quarantine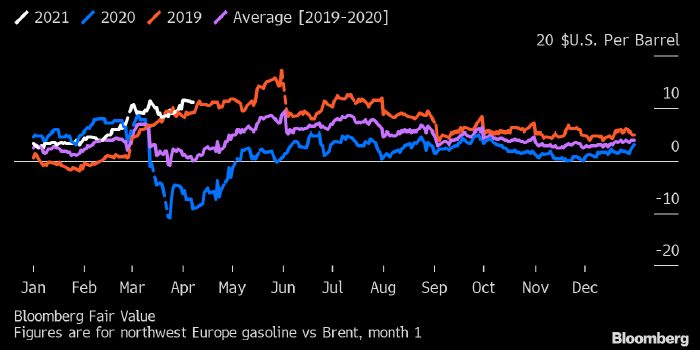 The difference between the price of gasoline in northeastern Europe and the nearest future on Brent oil in dollars per barrel over the years. Source: Bloomberg
A year ago, Europe went into a tough coronavirus lockdown: this led to a sharp drop in demand for gasoline, and its production began to bring only losses to refineries. Today, the continent is hit by a new wave of pandemic, which is accompanied by new restrictions, but refineries are earning a record profit in recent years.
The so-called crack spread * reached a record high in April since 2017, and the price of gasoline (seasonally adjusted – approx.ProFinance.ru) in the largest European countries like Germany, France and Italy soared to multi-year highs.
*ProFinance.ru: the difference between the price of oil and petroleum product, in this case – gasoline
Thus, Europeans drive less (in the week before March 28, car traffic dropped to a record low this year), but pay more for gasoline. There are two main reasons for this.
First, at least a quarter of the refineries located in the northwest of the continent were either closed for maintenance or experienced unforeseen operational disruptions. This further reduced the volume of oil refining, which was already low due to the pandemic.
And, secondly, the export of gasoline from Europe to other regions of the world has grown sharply. In particular, the export of gasoline from Europe to the United States increased in March by 60% mom, and in April it is expected to remain at a high level as well (data and forecast of the analytical company Kpler – approx. ProFinance.ru).
In addition, gasoline exports from Europe to North Africa amounted to almost 0.5 million bbl / d in the first quarter, which is quite high.