Dollar closed with decline for the third week in a row
BBDXY Dollar Index chart at 1 week intervals
Strong macroeconomic statistics for the US and similarly strong quarterly reports of American companies could not help the dollar. Over the week, the BBDXY dollar index fell by about 0.5% and closed with a decline for the third week in a row, which was a record downtrend since December.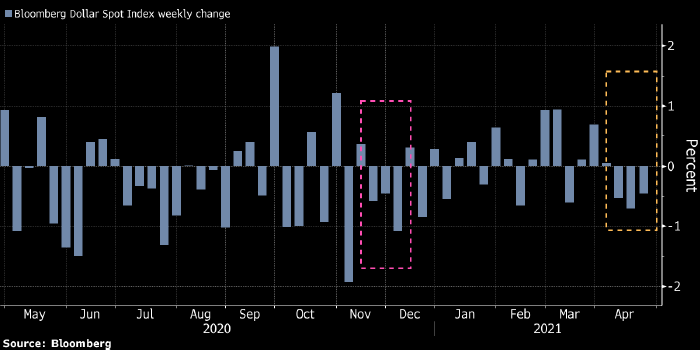 Percentage weekly change in the BBDXY dollar index. Source: Bloomberg
However, the current weakness in the US currency is mainly a correction to strong gains in the first quarter, said Mark Chandler, chief market strategist at Bannockburn Global Forex and former head of currency strategy at BBH, HSBC and BNY Mellon.
The Fed's Open Market Committee (FOMC) will hold a monetary policy meeting on Tuesday and Wednesday.
---
"Despite the signs of an improvement in the situation on the labor market, the FOMC is unlikely to change its dovish position," the expert predicts.
---