Deutsche Bank: US stock market may decline by 10% in the next three months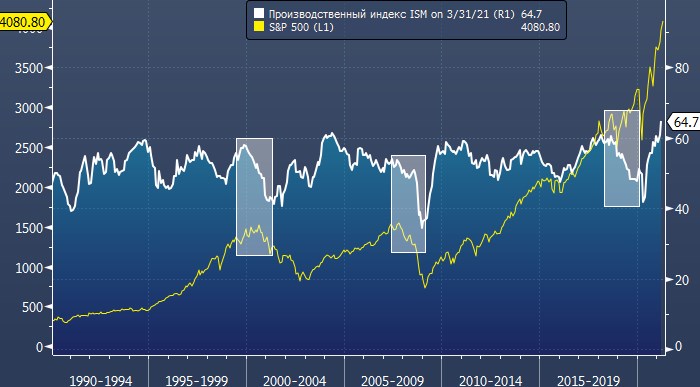 Deutsche Bank Chief Equity Strategist Binky Chadha Expects Further Growth S&P 500 Index "In the very near term" thanks to higher corporate earnings forecasts and faster growth in the US economy. However, in the next three months, the stock market may show a "significant pullback" by 6-10%.
This correction, according to the expert, will be due to the achievement of the peak of economic growth in the second quarter, which historically provokes a decline in the market (see the chart above – approx. ProFinance.ru). The stock market usually correlates well with macroeconomic cyclical indicators like the ISM manufacturing index, and tends to peak about a year after the end of the recession, the strategist explains.
---
"The strong correlation between stock market dynamics and cyclical growth indicators means that the decline in the ISM index from its peak is provoking a sell-off in stocks. The larger the decline in ISM, the deeper the correction in the stock market, "says Chadha.
---
According to him, the positioning of investors in the stock market is excessively bullish, which is unusual for the start of the economic recovery that we are in now. Therefore, the correction may turn out to be deeper than usual.