Credit spreads do not foretell any problems for the US stock market yet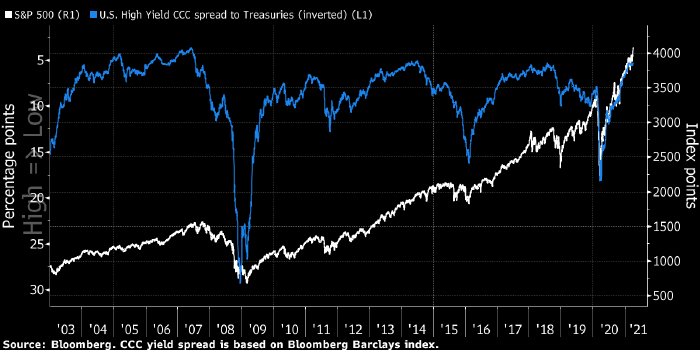 Schedule S&P 500 (white, right price scale) and the yield spread between the index of high-yield junk bonds rated "CCC" and Treasuries (blue, left scale, in%). Source: Bloomberg
Credit spreads do not yet foreshadow any problems for the US stock market, writes Ian McMillan, a technical analyst at Client First Tax & Wealth Advisors ($ 100 million under management – approx. ProFinance.ru). The expert plotted the yield differential between the index of high-yield junk bonds rated CCC and Treasuries, then turned it over and superimposed it on the S&P 500 chart.
It turned out that since the beginning of 2020, these instruments have shown a strong correlation. The Bloomberg Barclays Caa US High Yield Index rallied this week, pushing the yield spread between its components and Treasuries to its lowest level since July 2018.
The widening of this spread will be a worrying sign for the stock market, McMillan warns.