Covid Pandemic Will Scar Global Economy Even After Recovery
---
$ 26 trillion in incentives to tackle the crisis and vaccines have spurred recovery even beyond expectations, however, the fallout from a downturn in education, job cuts, war-era debt and rising inequalities between races, genders, generations and regions will be felt for a long time to come, especially in the poorest countries.
---
"After a busy year, I want to feel relieved that life is back on track," said Vellore Artie of the University of California, Irvine, who has studied the long-term effects of past crises on health and the economy. "However, as time shows, many of the consequences often last for decades and are not easy to eliminate."
---
IMF forecasts for recovery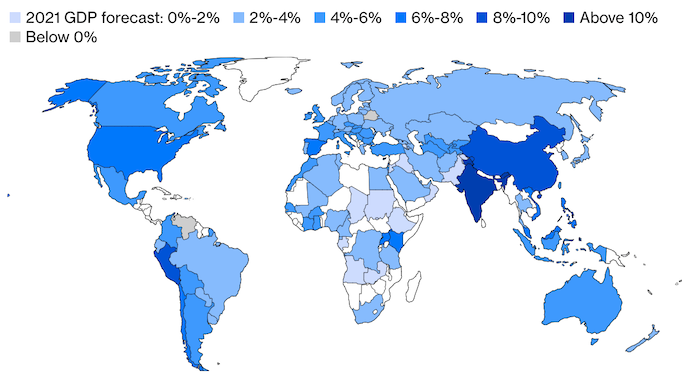 Source: Bloomberg
Overall, the fall in gross domestic product last year was the strongest since the Great Depression. The International Labor Organization estimates that this compares to 255 million full-time workers. The Pew Research Center believes that the global middle class has shrunk for the first time since the 1990s.
Costs will decline unevenly. According to the rating system developed by Oxford Economics Ltd., which consists of 31 indicators in 162 countries, the Philippines, Peru, Colombia and Spain are the most vulnerable to long-term impacts. The best prepared Australia, Japan, Norway, Germany and Switzerland.
The consequences will not be the same everywhere. The International Monetary Fund believes developed countries will be less affected by the virus this year and beyond. Low-income countries and emerging markets will be hit harder. This will be the main difference from 2009, when rich countries were hit harder.
US GDP next year is projected to be even larger than projected before Covid-19, thanks to trillions of dollars in stimulus, the IMF believes the pandemic will leave only marginal footprints in the # 1 economy.
The World Bank warned in a January report of a "decade of disappointment with global growth" unless corrective action is taken. Experts estimate that by 2025, global production will be 5% lower than before the pandemic, and that the growth rate at which inflation starts will fall below 2% in the next decade, already falling to 2.5% in the 2000s. up from 3.3% in the previous decade.
Experts, including Artie, point out that a lost decade can be avoided if the right political steps are taken, especially in the area of ​​retraining and helping those most affected by the crisis. One possible measure includes encouraging policies that encourage businesses to innovate and invest, especially in the area of ​​climate change. Central banks and most governments have already made it clear that they will continue to actively stimulate the economy.
According to Catherine Mann, chief economist at Citigroup Inc, choosing the right policy mix can turn a rebound into a full recovery.
---
"Innovation supports higher productivity growth, and new investment improves living standards," she said. "Also key are retention and employee training strategies so that they can take advantage of the opportunities associated with higher productivity."
---
What will happen after the V-shaped recovery
Countries that quickly coped with the virus have already realized that a difficult road lies ahead. After an initial V-shaped recovery, New Zealand's economy contracted in the last three months of 2020 as a lack of foreign tourists left a hole that locals were unable to fill. Now, the country that has consistently topped Bloomberg's Covid resilience rating is facing the prospect of a double recession.
In China, where the pandemic has been under control for almost a year, retail spending has been lagging behind a broader recovery.
---
"By focusing primarily on GDP, led by the US and China, the world will face a triumphant V-shaped recovery. Digging deeper, divergences between developed and developing countries, leading companies and their smaller competitors, and between highly skilled and low-skilled workers indicate that it will take more time to deal with the consequences, "said Tom Orlik, chief economist at Bloomberg. Economics.
---
Ongoing concerns about health and employment affect consumer confidence and spending patterns, which could ultimately be one of the most important economic consequences of the crisis, just as the Great Depression of the 1930s made people more economical. This is a risk even though many people have accumulated savings over the past year.
---
"There is real uncertainty about how much consumer behavior will change as a result of this crisis," said Adam Posen, president of the Peterson Institute for International Economics. "If people start going to restaurants, traveling, working out in gyms again, then many of these industries will revive. But it is also possible that people's preferences will indeed change, in which case unemployment will rise, and the government does not have an effective solution to this problem. "
---
According to the World Bank, five years after recessions in certain countries, long-term growth expectations tended to be 1.5% lower than in non-recessionary countries.
Long-term change
The crisis has accelerated the use of robots in both manufacturing and services because of the need to protect workers and customers from the spread of the disease. While this raises hopes for a recovery in productivity growth, millions of jobs will be at risk as it remains to be seen whether enough new jobs will be created through the process.
According to McKinsey & Co, it is possible that by 2030 more than 100 million people in the world's eight largest economies will be forced to change careers. Most often, lack of qualifications affects workers without higher education, women, ethnic minorities and youth.
The longer people are unemployed, the more they lose skills during the hysteresis process.
---
"Many jobs are destroyed forever," said Eric Robersen, Global Research Director at Standard Chartered Plc. Low-paying jobs in near-loss-making companies or marginal sectors disappeared as companies went bankrupt and sectors were disrupted. Many more flexible companies will fill in the gaps, but with fewer employees. "
---
Rising inequality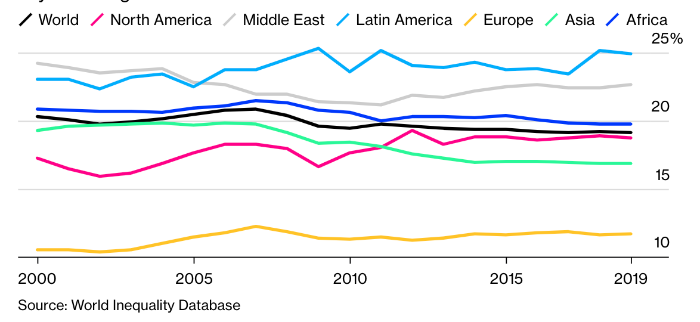 Source: Bloomberg
Even where jobs have been retained, work schedules have changed, and it remains an open question how these changes will affect wages.
Long-term implications will also show in the area of ​​human capital, after the pandemic has made schoolchildren and students in some countries unable to attend classes for an entire year.
In September, the Organization for Economic Co-operation and Development calculated that losing even a third of the school year for students affected by school closures amid the pandemic could limit the country's GDP growth for the rest of the century. The OECD warns that incomes for students in grades 1-12 may be 3% lower during their lifetime, with poor people or minorities most affected.
Financing the full recovery will be hampered by the $ 24 trillion additional borrowing the world took in 2020, pushing total debt to a new high of $ 281 trillion, according to the Institute of International Finance, according to the Institute of International Finance.
Once interest rates start to rise, even without the debt crisis, governments and companies will be under pressure, said Mark Zandi, chief economist at Moody's Analytics.
---
"The global economy will return to full employment after the pandemic much faster than after the financial crisis," he said. "But as soon as we return to full employment, the global economy will grow at the minimum pace that prevailed before the pandemic."
---