Citi expects US dollar to depreciate soon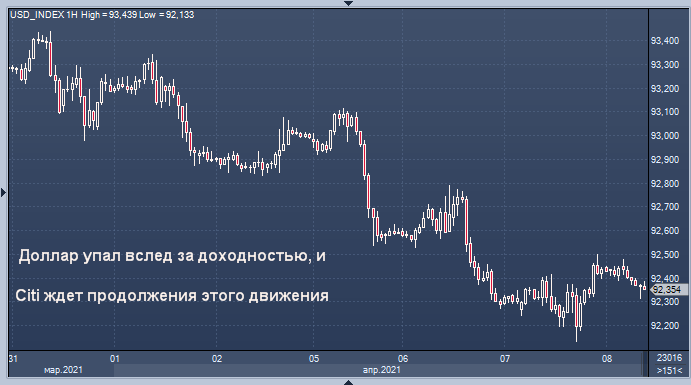 Schedule dollar index at intervals of 60 minutes
The US dollar traded near two-week lows versus its major peers on Thursday, tracking the decline in Treasury yields after the minutes of the March Federal Reserve meeting offered no new catalysts to determine the direction of the market.
Fed officials remain wary of the risks of a pandemic – even as the US economic recovery picked up steam amid massive stimulus – and pledged to provide support from monetary policy until the recovery becomes more confident as showed the minutes on Wednesday.
Fed Chairman Jerome Powell will speak at the IMF's virtual conference later Thursday.
The dollar index, which measures the dollar against a basket of six currencies, fell to 92.371 in the Asian session after falling to 92.134 on Wednesday for the first time since March 23.
The index rose to a nearly five-month high of 93.439 late last month as the US pandemic recovery outpaced recovery in most other developed economies, especially Europe.
---
"It's hard to argue that trading based on US macroeconomic data has exhausted itself; there is strong momentum from the vaccination factor, new vaccine discoveries and incentives that should lead to a significant improvement in recovery data in the next few months, "strategists Westpac wrote in the report, predicting the dollar index, also known as the DXY, to rise to 94. five.

"However, admittedly, the next DXY rally could take several weeks before it picks up steam – there is a lot of good news already reflected in its price."
---
The estimated yield on 10-year Treasuries on Thursday was around 1.67% after falling below 1.63% on Wednesday. At the end of last month, it peaked in more than one year – 1.776%.
The S&P 500 posted modest gains on Wednesday, moving mostly sideways after rallying to a record high earlier in the week.
Osamu Takashima, chief currency strategist at Citigroup Global Markets Japan, said the market direction is difficult to determine but expects the dollar to move down next.
---
"Current market sentiment is a moderate risk, and under such circumstances, the dollar will gradually weaken – but without major changes," he said.
---
The decline in US yields deprives the dollar of a strong growth factor, he added.
The dollar weakened slightly to 109.66 yen, consolidating after pulling back from more than a year's high of 110.97 reached on March 31.
The euro is largely unchanged since Wednesday at $ 1.18715 after rebounding from a nearly five-month low of $ 1.1704 reached on March 31.
---
"Vaccination progress in the eurozone lags far behind the United States, and coronavirus infection rates in the eurozone are on the rise again," Commonwealth Bank of Australia strategist Joseph Capurso wrote in a note to a client. "Thus, the EUR / USD pair is vulnerable to a decline to 1.1700 in the near future."
---