ByteDance plans to outplay Chinese competitors in their own field
---
Internet giant and owner of the growing social network TikTok plans to increase the revenue of its Chinese subsidiaries, including Douyin and Toutiao, from 183 billion yuan in 2020 to 260 billion yuan ($ 39.8 billion) in 2021. This was reported by Bloomberg, citing internal sources. In addition, the company intends to increase its online sales from 170 billion yuan to 600 billion yuan.
Douyin – TikTok's Chinese twin brother – is projected to attract 680 million daily active users. In March, this figure was 610-620 million. The target is still preliminary and may change, said an anonymous source familiar with the circumstances of the case.
Aggressive targets indicate that ByteDance intends to outplay the largest Chinese Internet companies in their own field. Last year, ByteDance's revenue nearly doubled to $ 35 billion. The firm is now preparing to go public with its main divisions, including Douyin. According to unofficial sources, the company has not yet decided on the place of listing and is choosing between the Hong Kong and American stock exchanges. There are plans to raise at least several billion dollars, but the volume of the placement may change as the process is still at an early stage.
If ByteDance fulfills its sales target, it will be able to accomplish in nine years what Facebook took 13 just from its business in China, excluding TikTok and other international companies.
ByteDance is aiming for the largest advertising giant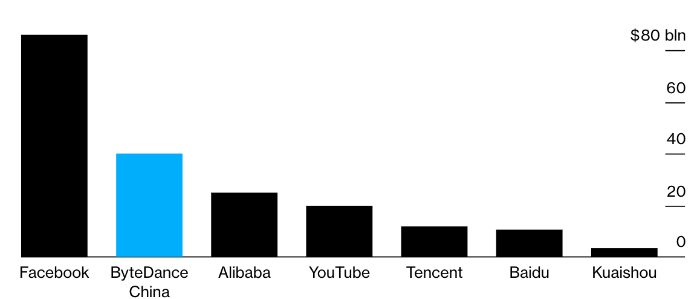 Source: Bloomberg
Founded in 2021, ByteDance has shown a unique ability to create hit services in 2021 and compete successfully against giants such as Tencent Holdings Ltd. and Alibaba Group Holding Ltd. The first success came with the news aggregator Toutiao, which translates from Chinese as "headlines". TikTok has become a global phenomenon, and Douyin is the leader of the Chinese market. Zhang Yiming, the 38-year-old founder of the company, is ranked among the richest people in the world, and ByteDance has an estimated value of over $ 250 billion.
Last month, the company hired Chu Shou Tzu as CFO, who had been preparing an IPO for Xiaomi Corp. two years earlier. The appointment reinforced rumors that the media giant plans to enter the open market.
In the first quarter of 2021, Douyin earned about RMB 31 billion from advertising. According to forecasts, voiced in an internal note, this figure will grow to 150 billion yuan over the year. For comparison, the closest competitor, Kuaishou Technology, earned 8.5 billion yuan from online advertising in Q4 2020.
ByteDance is stepping up competition with Alibaba. Brand and seller ad revenues are expected to be at least 50% of Alibaba this year. E-commerce will overtake the gaming business and become the main source of income.