BloombergNEF: by 2050, "green" hydrogen will be cheaper than natural gas in many countries of the world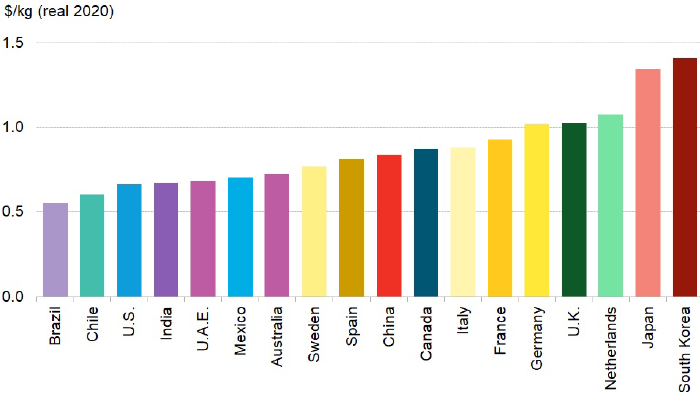 BloombergNEF forecast for the price of "green" hydrogen in 2050 (in 2020 dollars per kg) in some countries of the world. Source: BloombergNEF
Companies that plan to produce blue hydrogen * from natural gas using carbon capture and storage ** in 2030, or sell natural gas in 2050, should adapt their strategies to the changing reality, Bloomberg writes. The fact is that according to the latest forecast by BloombergNEF, "green" hydrogen produced from renewable energy sources will cost less than "blue" in 2030 in all 28 countries included in the company's analytical model.
*ProFinance.ru: hydrogen produced from fossil fuels, such as natural gas, but purified from CO2 using carbon capture and storage (CCS) technologies
**ProFinance.ru: Carbon capture and storage, a process involving the separation of CO2 from industrial and energy sources, transportation to a storage site, and long-term isolation from the atmosphere. The main goal of carbon capture and storage is to combat global warming as well as environmental pollution.
In addition, green hydrogen is expected to be cheaper than natural gas by 2050 in 15 of these countries. By this time, the price of "green" hydrogen "in most of the world will be less than $ 1 (in 2020 prices) per kg ($ 7.44 per MMBtu), predicts BloombergNEF.