Bloomberg: don't expect oil prices to return to $ 100 a barrel soon
Price Brent oil (yellow), net imports of oil and liquid fuels in the US (pink + forecast), free OPEC oil production capacity (white). Source: Bloomberg
Further rise in oil prices will require a rapid and multi-year increase in demand, which is unlikely to take place. Typically, supercycles in the raw materials market are characterized by a rapid increase in demand, which supply cannot meet, but this is not the case, given OPEC's spare capacity for oil production at 9.5 million b / d, Bloomberg Intelligence experts write.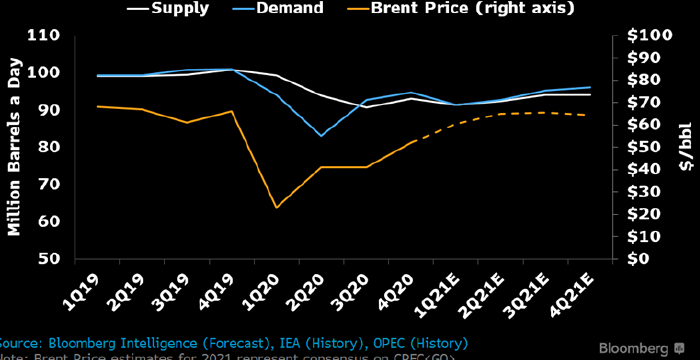 World oil supply (white + forecast), world demand (blue + forecast) and Brent oil price (+ forecast). Source: Bloomberg
Below are some highlights of their today's report.
The expected post-crisis growth in energy consumption and underinvestment, which was observed in 2020, give rise to forecasts of an increase in oil prices in the region of $ 100 per barrel, which is unlikely to take place.
Despite vaccinations, it looks unlikely to recover the required long-haul air travel this year. Our data show that in the first quarter, global demand for kerosene remained more than 50% below the same period last year. Prior to the coronavirus pandemic, kerosene accounted for approximately 8% of global oil demand.
Epidemiological concerns, teleworking and a difficult macroeconomic environment have led to the fact that gasoline and diesel consumption in developed countries in the first quarter remained 10-20% lower than last year.
Thus, it is hardly worth expecting a sharp increase in energy demand in the near future. But the supply situation does not inspire optimism either.
OPEC's spare capacity for oil production is 9.5 million bbl / d, and further price increases are likely to lead to an increase in production in the United States. Our analysis suggests that the average cost of mining black gold in the United States is currently about $ 40 per barrel.
Underinvestment observed last year
may lead to a medium-term imbalance in the market balance towards a deficit, however, great opportunities for OPEC and the United States to increase production will correct the possible imbalance.
* Saudi Aramco, BP, Shell, Exxon, Chevron, Total, Eni and Equinor, among others, reduced capital expenditures by about 20% compared to 2019
Do not forget about Iran, which, in the event of a new nuclear deal with Washington, could quickly increase oil production by almost 1.5 million bbl / d.
Saudi Arabia's January decision to voluntarily cut oil production by 1 million bbl / d helped to avoid oversupply, leaving the oil market in a more or less stable balance in the first quarter, according to Bloomberg. In the second quarter, the decline in world oil reserves may accelerate, but this will be offset by increased supply.
The strong one-year backwardation in Brent oil futures suggests that producers are actively hedging future production, and historically this has led to lower prices in the medium term.
The median forecast of experts interviewed by Bloomberg for the average Brent price in the second quarter is $ 65 per barrel, and for the entire 2021 – $ 64 per barrel.