Bank of America: Capital inflows to the global stock market in the last 5 months turned out to be higher than in the last 12 years
Cumulative capital inflows to the global equity and bond market, trillion US dollars. Source: Bank of America
Capital inflows to the global stock market over the past 5 months amounted to $ 576 billion, and over the past 12 years – $ 452 billion, writes Bank of America strategist Michael Hartnett. At the same time, bonds remain more popular than stocks: since the financial crisis of 2008, capital inflows into debt securities amounted to $ 2.4 trillion, and into shares – $ 1 trillion.
Nasdaq continues to lag behind S&P 500. This is not surprising, given that technology stocks have recorded their third consecutive week of capital outflows, the expert notes.
Among other interesting events, Michael Hartnett highlights the record capital inflow since November 2019 in real estate investment funds (REITs) stocks.
Bank of America Chief Equity Strategist Savita Sabramanyan This Week wrote that one of the bank's inverse indicators (generates a sell signal in a bullish euphoria and a buy signal in a depressed investor sentiment – note ProFinance.ru) is close to the formation of the first S&P 500 sell signal since 2007.
However, there is no particular euphoria on the global stock market, writes Michael Hartnett. In particular, 1573 of the 3042 non-US stocks monitored by the expert are more than 20% below their historical highs.
The strategist also notes that the global stock market is in a neutral zone relative to the yield on the global bond market.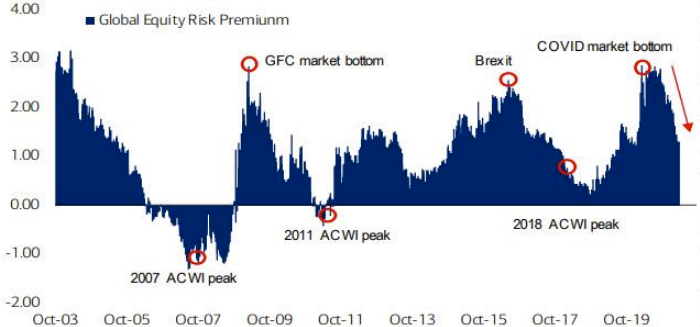 Premium / discount of the global stock market relative to the global bond market (above zero, the stock market is undervalued, and below it is overvalued) Source: Bank of America
According to him, this year the main asset classes show very different dynamics. Year to date:
bitcoin has risen in price by 100%;
oil increased by 23%;
the global stock market added 7%;
the dollar has risen in price by 3%;
high yield bonds added 1%;
cash brought nothing;
investment-grade bonds fell 3.5%;
sovereign bonds fell 5%;
but gold lost 8%.
In conclusion, Michael Hartnett recommends selling stocks and bonds in the event of a sharp increase and notes that inflation and interest rates have already formed cyclical lows.