American oil workers crash due to outflow of private investment
---
The most important source of funding for the US oil sector is dwindling. Private investors are leaving, forcing operators to ramp up production and cash flow to attract buyers.
This exodus reflects the experience of shale companies in open markets, where, even before last year's crash, investors had become disenchanted with an industry with notorious low returns and weak environmental, social and administrative performance.
---
"This downturn wiped out private investment," said Wil Vanloh, head of Quantum Energy Partners, one of the largest investors in the shale industry. "The total amount of money available to private companies has dwindled, and there will be much, much less money."
---
Dozens of oil producers are now "failing," without regular cash injections to fund the capital expenditures required for drilling, according to Ben Dell, a partner at Kimmeridge.
Private investment is shrinking despite a rebound in oil prices to $ 60 a barrel. This price allows many operators to break even and raises expectations of investors for a final exit from the sector with a profit.
Sentiment like this intensified this month when major public operator Pioneer Natural Resources, which is producing oil from the rich shale fields of the Permian Basin in Texas, agreed to buy private DoublePoint Energy for $ 6.4 billion in the largest deal between a public and private company in the US oil and gas industry for decade.
DoublePoint, which appeared in the US media last year when Donald Trump gave a campaign speech in front of one of the company's rigs in Texas, received backing from Quantum Wanloh, Apollo Global Management, Magnetar Capital and Blackstone credit.
But investors believe that deals of this magnitude are unlikely to be repeated.
---
"DoublePoint is an isolated case," said Adam Waterous, head of the Calgary-based private equity group Waterous Energy Fund. – There is a risk that people will see this as a return to 2013, when private investors were enjoying the unprecedented success of the oil shale industry. This is not true".
---
Change of mood
The mood in the private sector has been changing for some time.
According to financial data provider Preqin, 136 private funds closed between early 2015 and late 2019, raising a total of $ 86 billion to invest in US oil and gas.
Private capital flees from the oil shale industry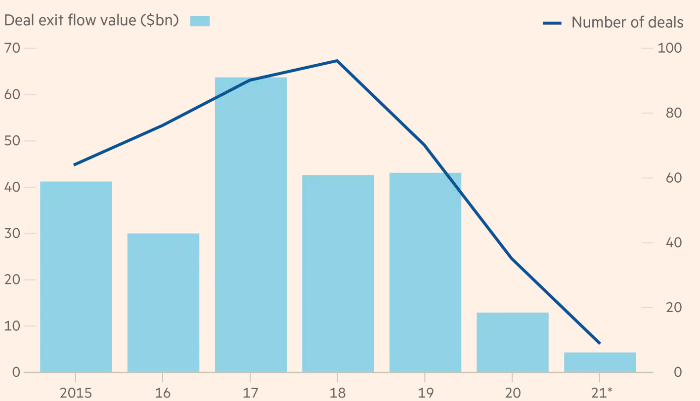 Source The Financial Times
The influx helped finance an unprecedented surge in U.S. oil production to a record high of around 13 million barrels a day last year.
But, according to Raoul LeBlanc, head of the North American division of consulting firm IHS Markit, liquidity has diminished and reserves are also lacking during the current recovery. Last year, 11 funds were closed, and due to the fall in oil prices, it was possible to attract only $ 4.5 billion. Production fell and now stands at about 11 million barrels per day.
---
"The current situation is different in that there is very little new private investment coming in to form new private companies, and they have no capital to mobilize," said Ben Dell of Kimmeridge. "They are not sure they can raise more capital."
---
Some private operators are spending windfall oil revenues on more drilling in the hopes that additional production will drive up valuation and attract buyers – a "desperate effort" to sell the stock profitably, Vanloh said.
Drilling rigs used by private companies have reached roughly 50% of the total of 48 mainland states this year, according to consultancy Enverus.
While state-owned operators cut capital expenditures and production last year, some private companies have done otherwise. According to Rystad Energy, a consulting firm, Quantum's portfolio companies increased total production by a quarter to 500,000 barrels per day by December.
The strategy has paid off for DoublePoint, one of the most active drillers in the Permian Basin, even during the tough months of the price drop.
But there are fewer and fewer successful deals. Private equity deals last year totaled just $ 13 billion out of 35 share sales, according to PitchBook, another data provider, just a fraction of previous years.
According to analysts, the market appears to be discouraging deals if investors believe this is evidence of higher growth in publicly traded companies.
Pioneer shares have fallen more than 10% since April 1, ahead of the DoublePoint deal, in part due to the feeling that the company, which will become the largest producer in the Permian Basin after the deal closes, is chasing supply growth again.
The company stressed that the purchase is intended to increase free cash flow, not just production. Pioneer said it will reduce the number of rigs it operates on.
Weak assets
IPOs, the other main route for private investment, are also difficult given the lack of enthusiasm in capital markets for fossil fuel producers and the shale sector, which has generated such small returns in recent years.
Blackstone Vine Energy has plunged about 16% since its IPO in mid-March – the first by a shale oil producer since 2017, well below the sector's performance.
Another major problem, investors say, is the lack of assets of sufficient quality to attract state-owned operators, which have abandoned the rapid growth and land grab strategy popular in previous years.
Private companies are increasing the rate of production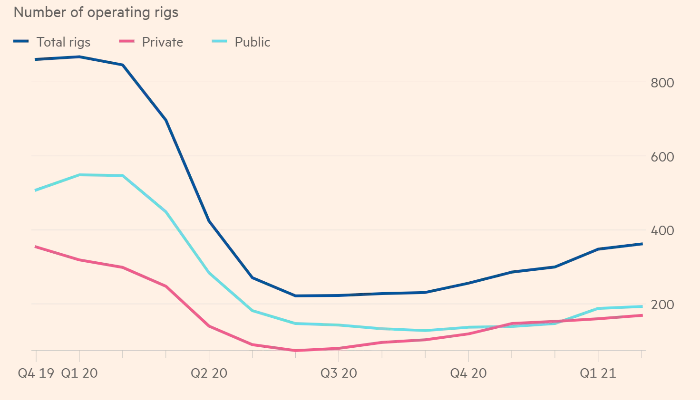 Source The Financial Times
The list of attractive private operators includes CrownQuest, Endeavor Resources, Mewbourne Oil and several other smaller operators, each with large properties in the Permian Basin. But last year's collapse in prices exposed weakness in shale assets.
Private money is behind the 500 producers in the United States, accounting for about a third of all American oil production in recent years. According to Waterus, most of them are now suffering losses and will never return the money invested.
---
"We believe that about 80% of them are illiquid," he said. – There are no suggestions. So 400 out of 500 cannot be sold. "
---
Recent deals included the sale by Bruin E&P, a privately held company that went bankrupt in July, and Grenadier Energy Partners II, backed by EnCap and Kayne Anderson, two large private equity investors in the oil industry.
According to investors, some private firms are also spending untapped capital instead of returning it to investors, or taking advantage of the divestiture of state-owned operators that optimize portfolios. This triggered a flood of small deals.
---
"This is reminiscent of the last capital spurt that was invested in funds three, four or five years ago," Vanloch added, referring to recent deals in which private equity groups bought assets from state-owned operators. "Either spend or lose."
---
Most likely, companies that suffer losses will lose capital and be forced to produce as much oil as possible as quickly and for as long as possible, just to keep the money flowing.
---
"This business is falling apart," said Waterus. "The industry has been pumping money out of the sector for years, rather than attracting new capital."
---
Some investors argue that special funds will remain in the industry, but non-specialized funds are going further, seeing great opportunities beyond the volatile fossil fuel business in fast-growing and low-carbon industries favored by investors with a focus on the environment, social issues and corporate relationships.
This is the end of an era in which private equity was often the main source of finance for the shale sector. But the available capital is shrinking.
---
"The reserves are running out," said Vanloh. "And once they're used up, these guys won't be able to reboot."
---