78 rubles per dollar is an unreasonably high price, according to Rosbank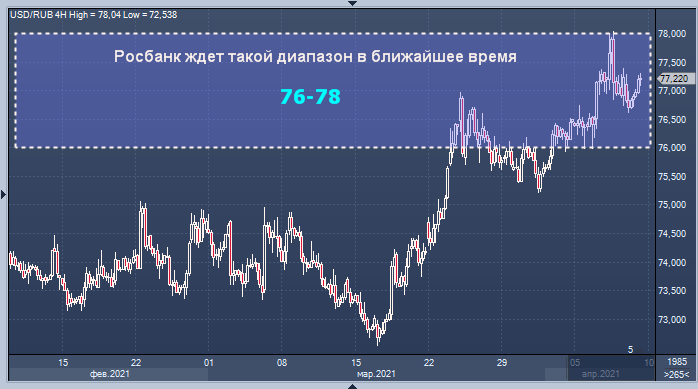 Schedule ruble to dollar at intervals of 4 hours
Geopolitics has begun to influence the ruble more strongly. It also noticeably prevents the dollar / ruble pair from returning to the levels of 75-76 rubles / $ 1, which Rosbank considers more justified given the current oil price. The first news strips remain behind reports of the escalation of the situation in eastern Ukraine, the bank complains. The ruble is moving mainly in response to statements by officials on this issue.
Therefore, while most EM currencies have strengthened against the US dollar since early April amid improved investor risk appetite (Brazilian real + 1.1%, Mexican peso + 1.8% and South African rand + 1.8%), the ruble, on the contrary, sank noticeably (-1.5%). On Thursday, he managed to win back part of the losses (+ 0.6%) after the proposals of the deputy head of the presidential administration D. Kozak to hold open negotiations with Kiev. Rosbank admits that it is now difficult to envisage further constructive steps on both sides. Therefore, geopolitics will continue to put pressure on the ruble.
---
"We believe that this will noticeably prevent the dollar / ruble pair from returning to the levels of 75-76 rubles / $ 1 (more justified in conditions of expensive oil), but the return to 78 rubles / $ 1 does not seem justified. adjustments to sentiments in foreign markets (the dollar retreated from the highs, Saudi Arabia expressed its opinion on the flexibility of OPEC +) and local flow factors (the Ministry of Finance yesterday began the April period of currency purchases with a target of RUB 185 billion until May 7), "analysts predict.
---
Today, the Central Bank of Russia will publish figures on the current account in 1Q'21 (consensus: $ 19.6 billion; Rosbank: $ 23-25 ​​billion), which, taking into account the details of the components (imports, service account), according to experts, may make adjustments to the equilibrium ruble trajectory: data weaker than consensus may downgrade Rosbank analysts' assessment of the equilibrium trajectory of the exchange rate.