Ripple has risen in price by one and a half times in a week and tested the $ 1.50 mark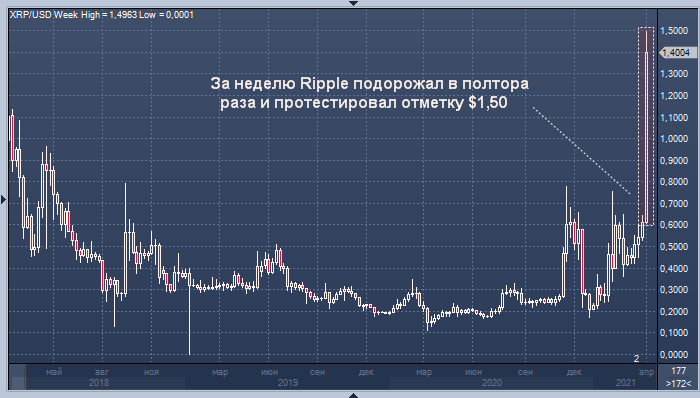 Schedule Ripple prices at intervals of 1 week
On Monday, Ripple traded around $ 0.60, but on Tuesday, for the first time since March 2018, it rose above $ 1. Now, some of the market participants referred to by Cointelegraph are waiting for the further growth of this cryptocurrency in the $ 2 area, which in December 2017 proved to be strong resistance with a lot of interest in the sale.
Ripple tested the $ 1.50 area on Sunday, and thanks to impressive gains in recent days, it regained the title of the fourth largest cryptocurrency by market capitalization.
The increase in trading volume and growing interest in this cryptocurrency may be due to the fact that Ripple recently announced a new acquisition aimed at increasing its ability to conduct cross-border payments, writes Cointelegraph.
In addition, this week, Ripple gained access to the documents of the American Securities and Exchange Commission (SEC), and will now be able to find out exactly what the authorities' claims against the company are. The head of Ripple Brad Garlinghouse believes that the SEC lawsuit against Ripple could fall apart if the company finds in the documents of the regulator that the authorities consider Ripple to be an analog of bitcoin and Ethereum.
December 23, 2020 Ripple price collapsed by about 30% after the news that the SEC accused the fintech company Ripple of creating an unregistered security and, therefore, of illegally selling cryptocurrency for $ 1.3 billion. The regulator sued Ripple, as it does not consider Ripple tokens to be cryptocurrency … At the same time, the Commission did not tell Ripple whether it considers the operation to sell tokens to be a sale of currency or securities, said the head of the company, Bradley Garlinghouse, quoted by Bloomberg.