Schedule bitcoin prices at intervals of 12 hours
At the auctions on Wednesday, bitcoin is falling in price for the eighth day out of the last nine, and Ripple has fallen in price twice over the same nine days. JPMorgan and Tallbacken Capital Advisors see potential for further declines in cryptocurrencies.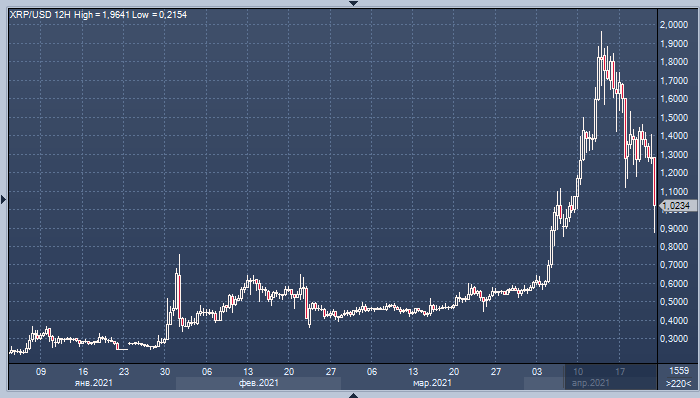 Schedule Ripple prices at intervals of 12 hours
---
"The biggest concern is that the assets that posted the most gains are now the most vulnerable to selling," said Matt Mayley, market strategist at Miller Tabak. "This does not mean that everyone will close 100% of their positions at the same time. But there are people who have a lot of money invested in cryptocurrencies, and they have an increase in capital gains tax to eat up most of the accumulated profits. "
---
Over the past year, the price of bitcoin has increased by about 550%, and since April 2019, by about 800%.
President Biden plans to almost double the capital gains tax rate for wealthy people who earn over $ 1 million a year, from the current 20% to 39.6%, Bloomberg reported on Thursday, citing informed sources. This, coupled with the existing tax on investment income, would mean that the federal tax rate for wealthy investors will be 43.4%. Therefore, many of them can take profits without waiting for this event.
In addition, Bloomberg reports that the IRS has taken seriously the taxation of income from the sale of cryptocurrencies. Back in 2019, the agency began asking taxpayers to report in their declarations whether they "received, sold, sent, exchanged or otherwise received any financial interest in any digital currency," the agency writes.